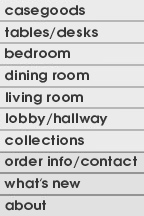 jan rosol furniture design

Jan Rosol's vision for contemporary living is a synthesis of unique design and well-crafted product rooted in the traditional European concept of a modern and comfortable home. His lifelong experience and commitment to art and design became an indivisible part of his work and his furniture designs can be found in interiors around the world. Each piece of Jan Rosol furniture is an original, one of a kind object. With over thirty years of experience in Europe and the US, Jan Rosol always creates the finest product, never compromising his philosophy.

Jan Rosol, born in Prague, Czech Republic (formerly Czechoslovakia), is a furniture designer living and working in New York City. Following his studies in Czechoslovakia at Prague's renowned School of Applied Arts, Jan Rosol worked as a sculptor, graphic artist, photographer, furniture designer, and furniture and wooden objects restorer, completing restoration projects in Prague's Klementinum St. Salvator Church and St. John of Nepomuk Church. Following his move to the US, Jan Rosol became the lead furniture designer for Atelier of Prague. Inspired by the simple architectural lines of the early 20th century Modernist movement, Jan Rosol's current work, though evocative of the movement, is original and contemporary, each piece incorporating art and function. Many of Jan Rosol furniture designs are organized into collections, each defined by unique design ideas and progressive approaches to traditional techniques. His collections include Avantgarde, Metropole, Mundi, Magni, LaCasa, Infinite, Arte, and NewConcept.

Jan Rosol is the founder of Atelier of Prague, Inc.

Atelier of Prague, Inc., based in New York City, is a custom furniture manufacturer and the exclusive distributor of Jan Rosol contemporary design furniture and lighting. Since 1985 we have been producing handmade furniture of exceptional quality and design, using only the best hand-picked materials and applying the finest finishes. We specialize in custom made furniture, including but not limited to, credenzas, media consoles, dressers, cabinets, wall units, bedside tables, dining tables, etc. Each exquisite piece is produced by master craftsmen.

jan rosol conceptual living - unique handmade furniture for distinctive interiors - est. 1985
© Atelier of Prague, Inc. 2005 - 2023